Two wonderful weeks in the book, thirty-six yet to be played. This week again we saw only winners and losers, and goals galore. All but three sides failed to find the back of the net, with eight sides netting three or more goals. If you're the football fan that lives for 0-0 defensive duels, this was not the week for you. Forty-four goals were scored in total, a new Premier League record for one week, thanks to Gabriel Jesus' last minute goal against Wolves yesterday. Forty-four goals over ten matches is equivalent to 4.4 goals/match, the kind of football I rather enjoy watching. Plenty of stories unfolded, and I will cover them here in this post. but first let's check the table after week two.
Five teams with two wins to start the season, including the reining champions. Leicester sit atop the table on goal difference, Everton in second with a strong start to the campaign. Arsenal find themselves third, and a somewhat surprising Crystal Palace sitting comfortably in fifth. At the bottom, West Brom, Fulham and Southampton have some work to do to get themselves out of the relegation spots. It is quite possible these are the three squads that get sent down to the Championship when this campaign is all said and done.
Arsenal 2 West Ham 1
Mikel Arteta said he felt his side were lucky to win the three points from his match, and frankly I agree. Their two goals were the type of goals we have grown accustomed to seeing from Arsenal sides over the years. Lots of passing and player movement, leading to relatively easy finishes. The first starts with Saka playing Aubameyang through which he was nearly offside, leading to a chip cross in to find the head of Alexandre Lacazete. The second goal also started with a cheeky run and pass from Saka. This time finding the timely run of Ceballos who beat the keeper with a square ball the Eddie Nketiah who just had to tap in for goal. Despite these two brilliant team goals, it was West Ham who seemed to have the more chances to break the deadlock. West Ham had 14 total shots, but only put three on target. Their poor finishing was ultimately the difference in the match.
Arsenal have a big test upcoming, as they face the champion Reds at Anfield this coming Monday.
West Ham have a big fixture themselves, as they face the always resilient Wolves at home this Sunday.
Everton 5 West Brom 2
This match had the potential for the dramatic had Kieran Gibbs not been sent off at the end of the first half. Gibbs, 30, made a mistake that you would expect to see from a youngster, not a man who has been playing top level football for most of his life. He struck James Rodriguez in the face after a shoulder to shoulder challenge from the Columbian international, that left his side playing with 10 men. West Brom, initially took the lead 10 minutes into the match off of a marvelous strike from Grady Diangana. Calvert Lewin then leveled the match on a backheel on the goal line. This was followed by a scintillating strike from James in the 45′. Then the dreaded red card. 2-1 Everton at the half. At the beginning of the second half WBA were given back a glimmer of hope on a curving left footed free kick from Pereira. The rest of the match belong to Everton, who looked crisp. Calvert-Lewin ended the match with his first Everton hattrick, with his three goals being the difference in the match. Besides of course the red card for Gibbs. Shame, shame.
Everton will face also undefeated Crystal Palace next. Something has to give between the two sides. Everton's front three have been spectacular so far this season, and look poised to hopefully guide them to a position to play European football. West Brom however will face Chelsea next, making it look unlikely for them to garner any points in their first several fixtures.
Leeds 4 Fulham 3
Leeds very well may be the most entertaining side to watch in the Prem this season. In their first two matches,there have been a total of 14 goals scored. Seven for them, seven for their opponents. This match saw them on the winning side of things, their first in the Prem is 16 long years for the club. They opened up a 4-1 Leed (excuse my poor pun) after 57′, but Fulham would not go out quietly. Fulham got a goal back just five minutes later to make it 4-2. Again just moments later in the 67′ it was 4-3, and seemed Fulham was going to be able to draw level. Alas, the tying goal evaded them, and Leeds hold on for the win.
The win should give Leeds some confidence as they move forward. I'm thoroughly excited to keep an eye on their campaign the rest of the way. They seem poised to stay in the prem for years to come.
As for Fulham, they have some work to do. They sit at 18th in the table early in the year. They need to start getting some results if they hope to avoid relegation.
Leeds face Sheffield next, while Fulham play Aston Villa.
Manchester United 1 Crystal Palace 3
Controversy was a key factor in this match. Which, from a Crystal Palace point of view, is certainly unfair. They certainly earned their first goal of the match. Jeffrey Schlupp received a wonderful ball, took it endline, and slotted it back to find the right foot of Andros Townsend who went back post to beat De Gea. From my perspective, both Luke Shaw and Marcus Rashford are to blame defensively for United. Shaw failed to see the backside run of Townsend, and Rashford had no interest in getting back to help his side. With Lindelof coming out so far wide, Shaw should move inside. effectively making Rashford a fullback for the time being. If either one of them track this runner, thus goal doesn't happen. Nothing De Gea could do about it.
Regardless, the first goal wasn't the story of the match. The controversy came in the second half. twenty-five seconds into the the 69′ of the match, Jordan Ayew took a shot that grazed the arm of Victor Lindelöf. Naked to the bear eye, play continued. Crystal Palace players weren't even appealing for the handball call. De Gea saved, and rolled out to Bruno Fernades. Play continued on for twenty seconds, then VAR took over the match. A penalty was awarded to Palace. This is not what I found to be controversial. From a United perspective, it is utterly upsetting, but it is the law of the game. Ayex then took the penalty, which was weak and thus saved by De Gea. A huge moment which certainly gave United a momentary spark. Again, play continued, this time for around thirty seconds until the referee said that De Gea had potentially stepped off of his line. VAR confirmed. This is where I had a slight issue. Was his foot off the line? Undoubtedly yes. However it was by such a slight margin. Besides, if Ayew had taken a good penalty, this wouldn't have mattered anyway. So Palace got another penalty, this time taken by Zaha who left no doubt. 2-0 to Palace. This whole sequence took three minutes of play out of the equation.
A few minutes later, Van de Beek scored in his debut, giving United life, but that was quickly taken away by the right foot of Zaha yet again.
And just so we are all clear, I am in no way shape or form a United fan. In fact, I love seeing them lose. Parity is a beautiful thing for the Prem. That being said, this was just such a clunky sequence in the game and both sides deserve better. VAR is in its infancy still, but we need to avoid moments like this at all cost.
Certainly this was a big win for Palace, away at Old Trafford, and an equally disappointing love for ManU. As mentioned earlier, Palace face Everton next, a battle of two early unbeatens. United have a favorable fixture with Brighton on Saturday, and look for their first points of the young year.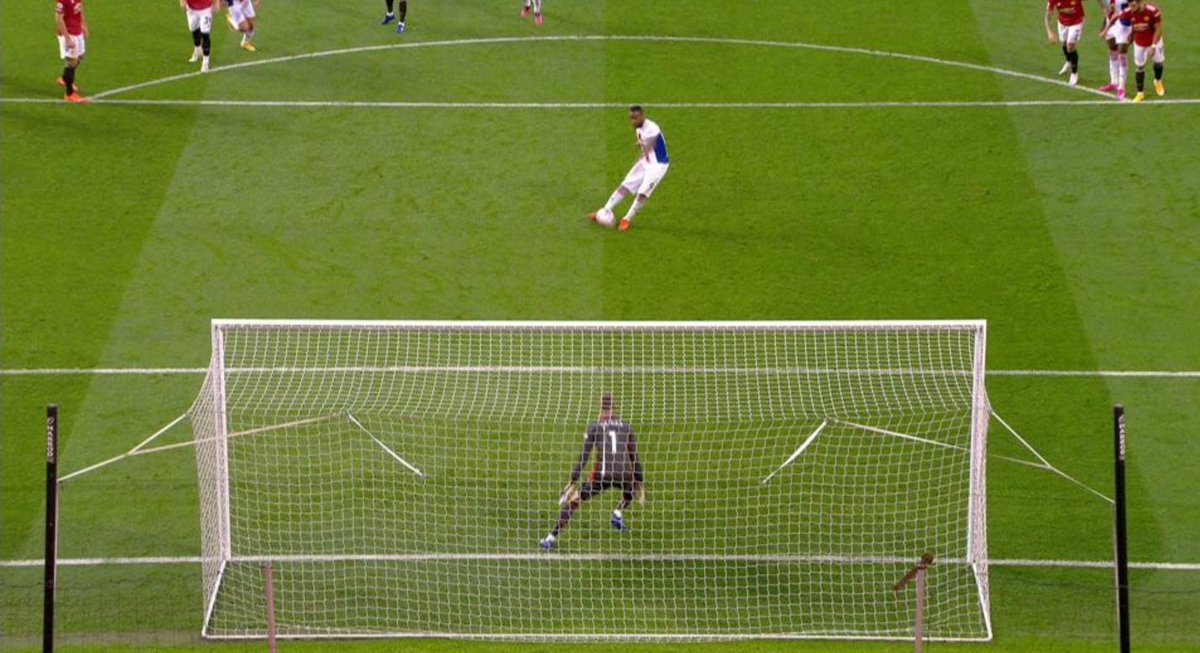 Tottenham 5 Southampton 2
Well, early on it looked a disaster for the Spurs. Two disallowed goals to offside, and then conceding in the 32′ to go down 1-0. Then Sonny went and started doing his thing. He brought them level on the stroke of halftime. The pass he received from Harry Kane was madness. He took out FIVE Southampton defenders with his early cross. Sonny's subsequent goals came at 47′ 64′ and 73′. All four of his goals were assisted by Harry Kane. You have to just love the unselfish play. Jose Mourinho certainly did. Up next for the Spurs is Newcastle on Sunday. Southampton will face Burnley on Saturday.
Newcastle 0 Brighton 3
Frenchman Neal Maupay scored a brace. His first coming off a 4′ penalty, and second coming off of an overturned offside in the 8′. This is how fine the margin was. To me it seems the new offside standard, allowing play to continue, and then be checked is working out beautifully. In years past, this goal would have been disallowed, or possible never even occurred. Examples of VAR getting the job done!
Chelsea 0 Liverpool 2
Is it a coincidence that Pulisic didn't play and that Chelsea subsequently lost? I would sure like to think so. Not a whole lot to say about this one. The story of this game comes down to this picture.
Uh obvious red card. Maybe Christensen should try his hand at linebacker in the NFL. Pretty solid form tackle, IMO. Just a heads up to the rest of the Prem, if you play 10 v 11 against Liverpool, maybe don't come back out for the second half. We know how it ends. The disappointing thing for Chelsea is that, although they lacked possession in the first half, I thought they actually had the better chances to score. Lesson here? Don't let Mane get behind you so you have to drag him down.

Thiago looked very comfortable with Liverpool. He's going to be a ton of fun to watch. And for Chelsea? They got their new goalkeeper, Edouard Mendy finally signed. Expect him to start this weekend against West Brom. Sorry Kepa.
The champs face Arsenal next. Should be an interesting match. Arsenal got the better of them in the Community Shield back in August. Can they do it again?
Leicester 4 Burnley 2
Well, two games into the season, and Leicester have yet to get Vardy an open play goal. Yet, they've found the back of the net five times(he scored two penalty kicks in matchweek 1). If they can continue to threaten goal, and take some of the goal scoring load off of his shoulders, they will be a force to be reckoned with this year. They currently sit atop the table on goal difference(seven for, two against). They'll face City next in what I think will be the match of the week. Sunday, 11:30 am (est.)
Burnley have work to do clearly. Their match this weekend with Southampton is a good opportunity to get a result.
Aston Villa 1 Sheffield United 0

Sheffield played most of this match with 10 men, as Captain John Egan was sent off for obstructing a goal scoring opportunity. Technically, this was a similar call to the red in the Chelsea/Liverpool match. I think this red was unwarranted. Yes, he did obstruct the attacker. Yes, it was a goal scoring opportunity. But there was contact both ways. Ang again, it was nowhere as egregious as this:
Despite only having ten men, Sheffield play pretty well, even earning a penalty in the 36′. Unfortunately for the Blades, they could not capitalize. Villa found the back of the net in the 63′, and that was pretty much all she wrote. Easily the most lackluster game of the week, ~only~ producing the long goal.
Next for Sheffield is Leeds, a match full of promise. Villa play Fulham on Monday.
Wolves 1 Manchester City 3
I wish I had been wearing my Whoop Bracelet for the second half of this match. City were all over Wolves in the first half, but Wolves just had chance after chance after chance in the second half. Honestly, they deserved a point from this match. But City is City, and they win football games under Pep Guardiola. I thought it was interesting to see Phil Foden start ahead of Riyad Mahrez, especially considering his summer antics with the England National Team, but he scored the second and decisive coal at the 33′ mark, giving City a 2-0 cushion going into halftime. He starts the move with a pass to KDB, then makes a wonderful backside run, then cuts across the face of goal to find the square ball from countryman Raheem Sterling.
Wolves looked helpless in the first half. Had they not given away a penalty, they likely would have got points from this game. The 3rd city goal of the match was in the waning moments of the match, and had no impact on the actual match, but was the goal that made this the highest scoring week in Premier League history, so there's that.
(Worth noting, I LOVE THOSE CITY KITS.)
City face Leicester next, and Wolves get West Ham.
That's it for this week's review folks. Thanks for reading, I genuinely hope you enjoy.
Be on the lookout for my post in the coming days of the Goals of the Week, for matchweek 2. Until then, hasta luego y'all.