The most glorious sports league in the world had a triumphant return this weekend, a sheer seven weeks after the end of last seasons campaign. We saw the exciting return of Leeds United, the first match in thirty years with Liverpool as defending champions, and the much hyped debut of Chelsea's new German wonderkids. In total, 16 of the 20 teams were in action with Burney/Man United and Man City/Aston Villa being postponed due to both United and City's involvements in Europa League and the Champions League. Each match this week had a winner and a loser, no draws to speak of. Something that the casual American fan will greatly appreciate. Not being sure on the history of this, I did some digging. Turns out that the 2018-2019 campaign the league as a whole went a whole month with no games eding on level terms(from March 16th, 2019 until April 20th, 2019).
Anyways, let's get into the nitty gritty of the games that took place over the weekend.
Saturday Games:
Arsenal 3 Fulham 0
After a miserable 2019-2020 campaign, Arsenal started this season off on the right foot. After obtaining a 1-0 lead going into halftime behind a tap in from Laca, new signing Willian showed his value with two second half assists to fellow new Gunner Gabriel, and newly resigned Aubameyang. Auba resigning is easily the biggest news from the Gunners camp this week. The 31 year old Gabon winger/striker signed a new three year deal worth $323,898 per week. His fabulous 57′ strike proved he is worth every penny.
Fulham had a tough welcome back to Premier League play, but luckily for them, they don't face another big 6 opponent until the face Manchester City in early December. Next up for Fulham is Leeds, who proved to be a tough side despite also just rejoining the top table in English football.
Crystal Palace 1 Southampton 0
This was probably the least enjoyable match of week one, but it did give us a wonderful first time finish from Wilfried Zaha off of a lovely cross from Andros Townsend. The most noteworthy occurrence of this match was the rescinding of a straight red card shown to Kyle Walker-Peters thanks to VAR.
Palace will face Manchester United next, while Southampton will face off with Tottenham.
Liverpool 4 Leeds United 3
This was easily the most exciting match of the week, a common occurrence for Liverpool over the past few seasons with Klopp in charge. 7 goals in total, with three more disallowed by offsides calls. Three equalizers, and scintillating press/counter press, counter attacking football. Marcelo Bielsa's side showed they are not afraid of anyone in the Prem, and have their target set on a chance to play European football next year.
Liverpool honestly should have lost this match. Sloppy defense contributed to all three Leeds goals. The first of which being made by PFA young player of the year Trent Alexander Arnold. The second being allowed by a very poor touch by world class centre back Virgil Van Dijk. The third goal allowed is on the midfield line, specifically Gigi Wijnaldum failing to pick up the excellent run into the box by Mateusz Klich.
The Reds had the fortune of being awarded two penalty kicks. One from a handball early in the match, and the foul by Rodrigo on Fabinho in the 87′. It was unfortunate for Leeds, who I really believe deserved at least get a point out of this match. Salah had a hattrick, as he took both penalty kicks, and scored another delightful rocket into the top right corner on the rebound of a Andy Robertson free kick.
Leeds face off with fellow promoted side Fulham this weekend while the champs will take on Chelsea in London.
Newcastle United 2 West Ham 0
I did not get to view this match but Newcastle have to be pleased with the start to their 2020-2021 campaign securing three points away to West Ham. Both goals were scored by newcomers to the squad, Callum wilson and Jeff Hendrick. West Ham have to be incredibly disappointed to not get a point in this match with their next 6 matches being against (in order) Arsenal, Wolverhampton, Leicester, Tottenham, Manchester City, and Liverpool. It is fathomable for West Ham to be 7 games into the season without a single point. New Castle on the other hand sit tied atop the table for the time being, with Brighton coming to their home this Sunday.
Sunday Games:
Leicester 3 West Brom 0
Leicester opened their 2020-2021 campaign with a debut goal for right wing back Timothy Castagne in the 56′ and followed it with two goals from the spot for Jamie Vardy. West Brom could only muster a single shot on target, and saw roughly 35% possession in the match, the newly promoted side struggled mightily in their first game in the PL since 2017-2018, which was the end of an 8 year spell at the top flight. Match day 1 was a step backwards for them with two incredibly tough fixtures upcoming in Everton and Chelsea.
Everton 1 Tottenham 0
I'm trying not to be too biased here, but this match made me giddy as an Arsenal supporter. The Spurs looked lazy and complacent too much in this match, especially after conceding the goal in the 55′. The lone goal of the match came off of superb header by Dominic Calvert-Lewin on an Everton set piece from near the left touchline approximately 36 yards out. Lucas Digne whipped a left footed inswinging cross into the box, and Calvert-Lewin rose to meet the ball with his head unchallenged.
This match saw the unveiling of the new Everton midfield. Allan from Serie A side Napol, Doucouré from relegated Watford, and much hyped James Rodriguez from La Liga Champions Real Madrid.
Tottenham boss Jose Mourinho is insisting that his side need more, and is targeting Gareth Bale from Real Madrid. I insist that they have several good pieces, and need to simply go and play attacking football, and not sit back and wait to counter. They have the pieces to be a top 4 side. They are only two seasons removed from playing in the champions league final, and their squad has not changed that much. This was a very disappointing start to the season for Tottenham, and I for one, absolutely love it.
Wolves 2 Sheffield United 0
The Wolves put this one to bed early in the match, scoring twice within the first 6 minutes of the match. Realistically, this one was over after that second goal by Saiss. Sheffield actually had more possession (56%) better passing, and more corners, but they just lacked creativity in the final third. When you concede two goals within the first 10 minutes, it allows your opponents to play more passive and defensive, and look for counter opportunities. This is exactly what Wolves did, and probably should have added another goal in the 70′, When Saiss took aim, his shot was saved, ricocheted off the post directly to the feet of Raul Jimenez, who could not put it in the empty net. Wolves, who finished 6th last season are delighted to start the season so strong.
Wolves will face Manchester City next, in a huge match for them to continue their early season success.
Sheffield will see Aston Villa next Monday and certainly hope to turn things around.
Chelsea 3 Brighton & Hove Albion 1
This was the match I was most looking forward to in match week 1. I was excited to see the new additions, however of the 6 new signings, only Timo Werner and Kai Havertz saw the pitch. In addition, American Winger Christian Pulisic is still sidelined with a hamstring injury suffered in the FA Cup final against Arsenal. That being said, the full potential of this Chelsea squad is yet to be seen, and likely will take a few weeks to see the full 11 in place. The top photo is a projection from a Chelsea fan while the bottom photo is how Chelsea lined up on Monday evening.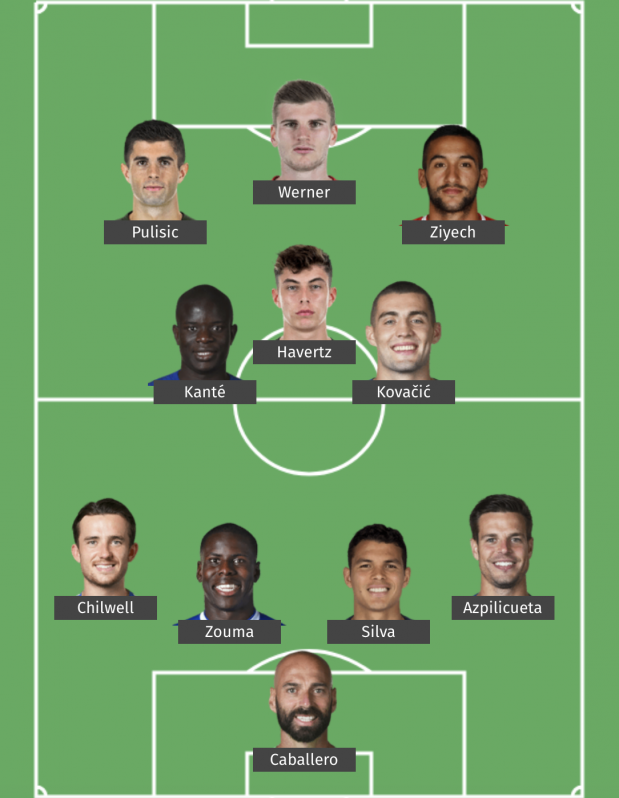 The match itself was pretty entertaining. Timo Werner drew a penalty after a big midfield mistake by Brighton. Jorginho took the penalty and calmly slotted it in. Brighton drew level after a long range left footed effort by Leandro Trossard, which probably should have been saved by Kepa Arrizabalaga. Lucky for him, Reece James just 100 seconds later scored the goal of the week with a right footed power shot that went into the top right corner of the goal. Brighton's midfield was slow transitioning in front of James, probably because that is the last thing they expected to happen. Reece James got his first goal, and Kepa was saved. Then in the 66′ Kurt Zouma got a lucky deflection on his shot, and the ball rolled past the keeper who had fallen to his knees.
Lampard's side start the campaign with the 3 points, but I'm sure he will expect more of his squad moving forward. I really think this team has a lot of potential, especially if they do end up replacing Kepa with Edouard Mendy as they are expected.
Chelsea take on defending Champions Liverpool this weekend, in what should be a lovely litmus test for both teams.
Brighton will meet with Newcastle this weekend, hungry for some points.